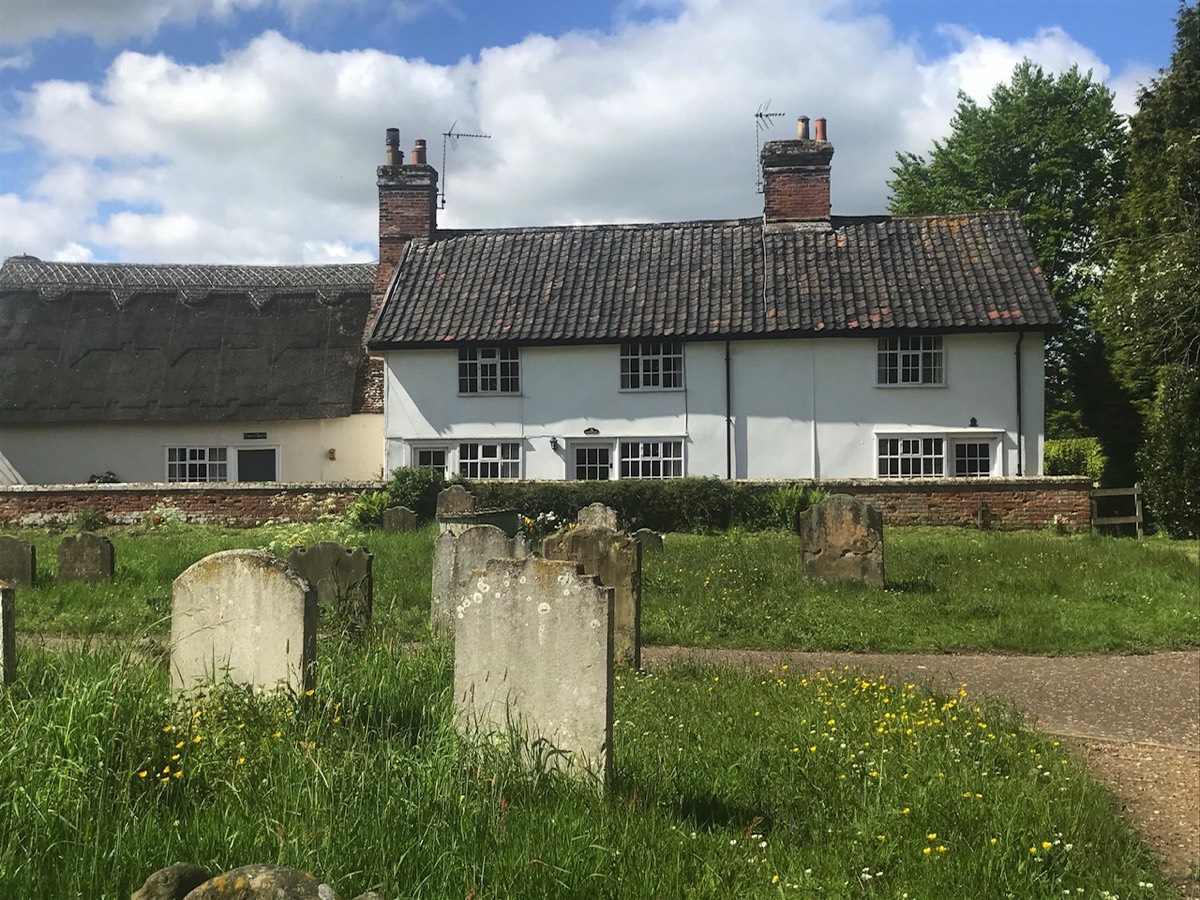 The 2015 edition of the
Suffolk East
Pevsner guide says "Church Cottages, on the W side of the churchyard, are timber-framed, date back to the early C16 and may originally have been a guildhall. They now look newer than the late C17 thatched cottage attached to their S end."
Similarly the Historic England official listing
here
says of 1-3 Church Cottages:
Probably a former guildhall, later used as a school and courtroom, now three cottages. C16, re-roofed late C18 or C19. Timber framed and plastered, pantiled roof. Two storeys. Three window range, three-light casements; three doorways; one boarded door, two mid C20 glazed doors. One internal stack and one external stack to south abutting No 4 Church Cottages. Interior considerably modernised but with some good quality exposed timberwork including long arched braces to tie beams.

I am grateful for an email to me (Nov 2022) from the present owners, also the owners of the copyright of the photograph above, which added the following useful detail:

"Prior to some renovation work, we hired a retired heritage officer to write a report for listed building consent. From her research, she discovered that there has been a building on this site since 1513 and that the guildhall was closed down in 1547. The church retained the property with the upstairs chamber becoming the first schoolroom in the village and the lower chamber becoming a "sometime courtroom" for a travelling judge and an office for the overseer of the poor. At some point in the 1700's, the school moved into its own building and the church divided the old guildhall into three cottages. These were rented until the mid 1900's at which point the church decided it was time to sell them.

In 1969 my parents bought the middle cottage (No 2), which was the last one to be sold by the church. As time passed by, they had the opportunity to buy No 1 and combined the two cottages into one, and finally in 2010 they were able to purchase No 3. Their dream was to convert the cottages into one building, but sadly they were not able to achieve this in their lifetime. I came to inherit the properties and we decided to carefully renovate them back into one, as my parents had wished, keeping the old guildhall in the family."


I have not been able to find any reference to the village gild but the map of Medieval Gilds (section 32) in An Historical Atlas of Suffolk (ed David Dymond & Edward Martin) does show hatching of the parish indicating at least one gild.